Vishay Intertechnology, Inc. (NYSE: VSH) announced the launch of five new infrared (IR) sensor modules in a compact package. The Vishay Semiconductors TSSP9xxx AGC 0 device has a fast response time of 300 μs and reflection and proximity detection distances of 2 and 30 meters, respectively, for light curtain and perimeter guard applications.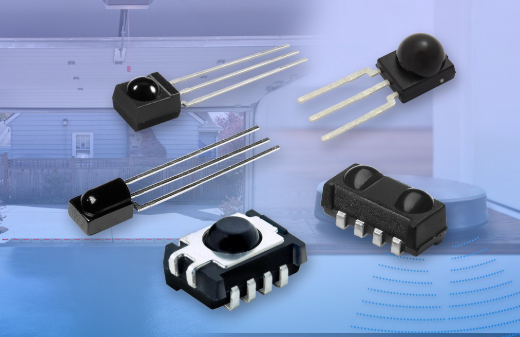 The fixed gain sensor released recently has high anti-interference ability and is not affected by spurious signals. The output pulse width is closer to the burst length of the optical pulse. The detection threshold is almost constant over the temperature range of -25 °C to +85 °C, and the detectable effective infrared signal is higher than the DC illumination level.
The TSSP9xxx AGC 0 is available in variable intensity burst mode and is ideal for fast proximity applications (~15 ms). This sensor is suitable for detecting object distance and can be used for toys, remote control aircraft, robots and smart proximity switches. Acting as a reflective sensor for hand dryers, paper towels or soap dispensers, automatic faucets, toilets, vending machine detection, and security equipment and pet entry. The TSSP9xxx family of sensors integrates PIN photodiodes and sensor ICs in small Minimold (TSSP930.), Mold (TSSP940.), Heimdall (TSSP950.), Panhead (TSSP960..) and Minicast (TSSP980. .) In the package.
The module operates from 2.0 V to 3.6 V with a supply current of only 0.8 mA and a carrier switching frequency of 38 kHz and 56 kHz. This sensor receives IR pulses from a transmitter with a peak wavelength of 940 nm. The device is insensitive to supply voltage and ripple noise, shielding EMI, and the IR filter rejects visible light. The TSSP9xxx series of sensors are RoHS , Vishay green, and halogen free.
The TSSP9 series has a lead time of four weeks.  Contact us today at sales@spb-global.com for more information on how to order today!
SPB Global Technical Talks WebForum